Referral Program
We love referrals, and we want to thank anyone that spreads the word about our service. If you refer someone and they rent from us, you will earn 10% of your referral's total rental, and it's as easy as forwarding them a link to our site.
How does it work?
Anyone with an account can participate, just log in and you'll find your personalized link and different ways to share it including images for your blog or website. If you have placed an order from us before you already have an account, but if you need one you can create it without placing an order. When someone uses your link to rent anything from our site you'll automatically get 10% of their total rental to use towards any future rental.
How do I use my credit?
When you have referral credit posted on your account you will automatically get a checkbox on the checkout page that will allow you to apply the credit to the order you're placing. Simply check the box, it's that easy!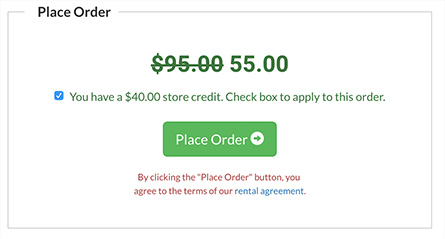 Can I get cash instead of credit toward rentals?
At this time we are not able to offer any payment other than credit towards your future rentals. Getting payouts ready every month would add a lot of overhead to our process and we're all about keeping things simple and costs down, plus let's be honest, what would you use that money for if not to rent more gear from us?!